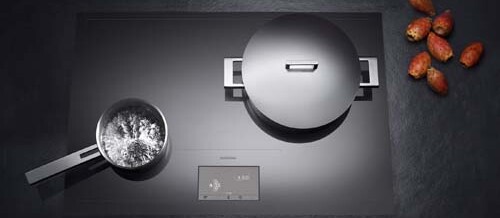 How to clean your electric stove properly.
We all like to eat nicely cooked home dinners, but after the food is cooked the stove is usually a mess. If you keep your range clean all the time and do cleaning right after cooking you can avoid problems in the future. Depending on how often you cook, you will need to clean the stove more or less frequently, but you should clean the top of your stove at least every week. Soap and water alone might not help a lot. To be able to clean out all this burnt food and fat from your stove you will need something better than that.
Cleaning ceramic cook tops
Made of strong, heat resistant ceramic cook tops can stay looking like new through years of use with proper care and cleaning.
CeramaBryte is one of the best means to clean smooth ceramic electric range surfaces.
Don't use dish towels and abrasive sponges, they can leave scratches on glossy ceramic surface.
Wait till the coot top is cooled down, never attempt to clean cook top when it's still hot
Pour several drops of CeramaBryte on each burner and rub it with dry paper towel. For best result don't add water.
 For heavily soiled surfaces use CeramaBryte Scraper.
Sometimes copper bottom or aluminum bottom pans can leave stains on your burners. CeramaBryte  might not work for them, but don't try to scrape with sponges, it will only sctracht the surface and make no good. Over time these stains may vanish as you continue to cook on burners and clean them regularly. Make sure that you use pans with clean bottom when cook.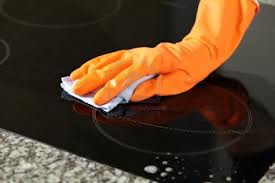 Cleaning electric stove burners
Wait for the burners to completely cool then remove them from the stove. Just carefully pull them out, most of the burners will be easy to remove without much effort. See the user's manual for your stove if you have problems with removing the burners.
Then remove the burner pans also.
The burners coils and burner pans can be washed with soap and water using sponges.
For  tough spots use baking soda: apply baking soda on the burner coils and pans, wait 15 minutes, scrub with sponge and rinse.
While waiting for baking soda to work, spray the stove top with the degreaser let stand 5 minutes. Rinse with hot water and towel dry.
Make sure the burners are completely dry before installing them back to the stove.
 Tip: Line each of the burner pans with aluminum foil. That will make your next leaning procedure much easier. Each time you will just need to replace the foil instead of cleaning the  burning pans.
The above is easy to do, and will help to keep your stove in good condition much longer. Here at D&V Appliance Repair we always encourage our customers to take a good care of their appliances. More maintenance is less repairs.