Ice Maker Repair in Orange County
Ice makers and ice machines repairs is another service area of our company.
The ice makers are units installed in the freezer compartment of a refrigerator to automatically produce ice cubes. The ice maker does several operations to make the ice: it fills water, freezes it and makes ice cubes in the shape of the tray. Refrigerator cooling systems makes water to freeze, the amount of time it takes for ice maker to produce ice will depend on: freezer temperature, food load conditions, number of door openings and environment temperature.
Safety repairing ice maker:
Anyone who doesn't have full understanding and basic experience and skills in repairing home appliances should not attempt to install or repair any automatic ice makers. Any improper installation or repairs can create a risk of injury or property damage.
Please follow the following precautions:
Never place finger on the automatic ice maker mechanism while the refrigerator is plugged in.
Be careful with any sharp edges on the automatic ice maker, which might result in personal injury.
Don't attempt to operate the automatic ice maker unless it has been properly reinstalled, including the grounding and electrical connections.
There are can be numerous kinds of problems and issues which can cause your ice maker to multifunction. Most of them are solvable by experienced technician in the same day.
We offer repair and maintenance of any types and brands of residential ice makers and also offer professional repair services for ice makers used in restaurants, bars and cafes, the food industry, supermarkets and catering.
Regardless of the manufacturer, design and technical features of the ice maker, we provide consistently high-quality and professional repair service of ice making machines for Los Angeles and Orange County residents.
Considerable experience and a high level skills of our technicians allows us to perform quality and prompt repair of ice makers, regardless of the level of complexity. Our masters will conduct on-site repair of hydraulic, mechanical, and electronic components, parts and components of the ice maker. It is not required to transport the equipment to our technical center, which significantly reduce the repair process and save your time.
We are ready to make the necessary maintenance and repairs of ice makers at the timed who is suitable for your convenience as well as give you an advice on the installation, operation and maintenance of ice machines. All units, parts and components used by us for repair are genuine parts from leading appliance manufacturing brands. Replacing of defective parts, our specialists will install only genuine parts used specifically for the model of your ice maker. We work with the original parts for ice machines like: Amana, Sub-Zero, KitchenAid, Whirlpool, U-line. This approach to maintenance can significantly increase the performance of the device, its reliability and service life.
The most frequent issues that we have come across repairing ice makers:
• The Ice maker stopped working
• The ice maker is not making ice.
• The Ice maker has a water leak
• The ice maker is making unusual sounds
• The ice has different size in comparison with usual cubes
• The Ice cubes have unusual smell
• The ice maker makes the ice too slowly.
• The ice maker is frozen over
 Why choose us for ice maker repair in Orange County:
Prompt quality and reliable service from appliances' experts for all major makes and types of appliances
We repair all major types and brands of commercial and residential appliances
Licensed and insured technicians
Same day service
Best prices in your area
Genuine factory parts
Fully stocked trucks
Up to 5 years warranty on installed parts, 30 days warranty on labor
FREE ESTIMATE if we do the repair
No hidden charges, no overcharge for late hours or weekends
For Ice Maker Repair in Orange County Call us today 714-204-3140 or schedule an appointment on-line. We will come at the most suitable time for your and will consider all your preferences and customer service will be happy to answer all your questions regarding appliance repairs anytime. We are open from 8:00 AM to 8:00 PM every Monday through Saturday. We are also on call after our normal scheduled hours and on weekends for emergency repair services
Don't try to fix your appliance yourself, it's not safe and can cause much more costly repairs. Entrust your appliance to professionals and it can serve you more years to come.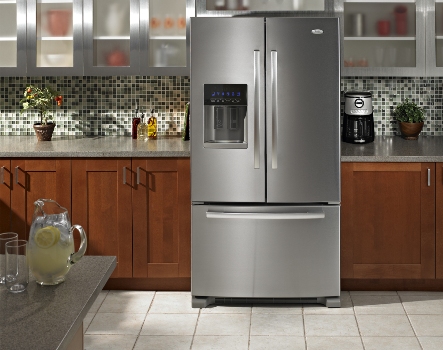 ice maker repair
D&V Appliance Repair is rated 4.8 out of 5 based on 40 reviews

D&V Appliance replaced the ice maker in my Whirlpool refrigerator the same day I called, I have nothing to complain about, the service was prompt and professional.

Written by: Jennifer S.

Date published: 04/03/2013

5 / 5 stars