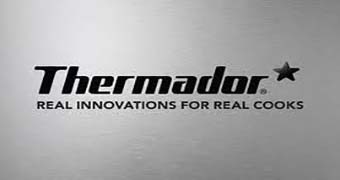 Thermador Appliance Repair in Orange County
Thermador has been making kitchen appliances for decades and this is a brand you can trust.  Thermador appliances are luxurious, efficient and beautiful, and maybe even better than any other kitchen appliances. They introduced their first built-in oven almost 50 years ago and went all the way to revolutionizing gas cook tops with the patented StarTM Burner. Now their product line ranges from built-in coffee makers, to side-by-side refrigerators and professional ranges. Through years Thermador has earned its status as an American icon. Now days owning Thermador range or oven is an expression of you own personal style and good taste.  But yes, due to poor maintenance, wrong installation or improper usage even this hi-end appliance can break down.
Here in D&V appliance repair we specialize on repair of hi-end appliances such as Thermador. We are known as extremely reliable and professional company with excellent customer service. We have been in appliance industry for many years and have a wide experience in Thermador appliance repair. Whether it's an issue with a heating element, burner or a control board we can perform quality repair in most cases the same day. Because of the huge inventory of parts we have available in our vans, we'll be able to make the Thermador appliance repair as quickly and affordable as possible. Our trucks are stocked with the most common Thermador parts  to ensure timely appliance repairs, but if some rare part needed to be ordered we'll have it delivered to your home as soon as possible. We use only original Thermador factory parts. We're the top choice for Thermador appliance repair in Orange County. Repairing hi-end appliances as Thermador  requires extensive training, knowledge and experience that's why we always encourage to leave this job to professionals.
You can call us any time at 714-204-3140 to make an appointment for diagnostic and estimate.  Professional and experienced appliance technician will come to your site and determine what's exactly wrong with your appliance. Our service call fee is $85.00 and this amount will be waved from your total invoice upon you decision to make a repair with us.
Thermador appliances we repair in Orange County:
Thermador Rangetop Repair
Thermador Cook top Repair
Thermador Microwave Repair
Thermador Bottom Freezers
Thermador Side-By-Side  Refrigerator Repair
Thermador Freezer Repair
Thermador Wine Refrigerator Repair
Thermador Dishwasher Repair
Why choose us for Thermador Appliance Repair in Orange County:
Prompt quality and reliable service from appliances' experts for all major makes and types of appliances
We repair all major types and brands of commercial and residential appliances
Licensed and insured technicians
Same day service
Best prices in your area
Genuine factory parts
Fully stocked trucks
Up to 5 years warranty on installed parts, 30 days warranty on labor
FREE ESTIMATE if we do the repair
No hidden charges, no overcharge for late hours or weekends
For Thermador Appliance Repair in Orange County Call us today 714-204-3140 or schedule an appointment on-line. We will come at the most suitable time for your and will consider all your preferences and customer service will be happy to answer all your questions regarding appliance repairs anytime. We are open from 8:00 AM to 8:00 PM every Monday through Saturday. We are also on call after our normal scheduled hours and on weekends for emergency repair services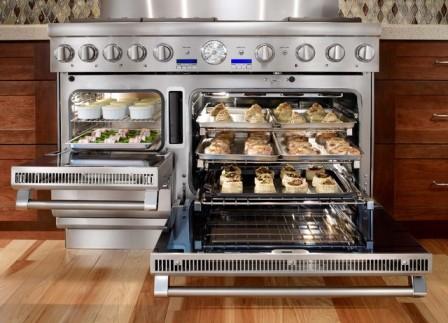 Tips on Gas Oven That Is Not Heating Properly
If you are the DIY type of a person, fixing things at your home might just be the most awesome weekend project ideas for you. However, it is essential that you learn to differentiate what you can manage to fix all by yourself and what you should leave to the professionals. Gas oven repair is something that you could be planning to do over the weekend if your unit is not heating properly. Many culprits are responsible for the poor heating of the unit and here is a look at some useful tips that will really help you a lot in the process.
Turn the gas supply off
Don't make the mistake of trying to troubleshoot the problem with your gas oven when the unit is still connected to the gas supply. Regardless of what you do, remember that your safety should always come first and avoid putting yourself in any unnecessary risks. Check behind your oven for the gas line and turn it off. To confirm that the gas is actually turned off, try lighting the unit and check to see that it isn't working.
Clean the burners
Most gas ovens usually have problems with the burners and these are usually the main culprits why these units won't hit properly. When the burner is dirty, the gas oven won't be able to hit properly. Carefully remove any dirt which could be on the outside or inside of the burner. A diluted mix of baking soda will work perfectly well as a cleaning agent. Use a toothbrush to brush the burner surface and burner holes gently until they are perfectly clean. Poke through the burners using an unraveled paper clip and ensure that any dirt inside is completely released.
Check the bake igniter
Something else that you will need to investigate carefully is the bake igniter of your gas oven. The continued use of the oven might have made the bake igniter weak or burned out and this could be responsible for the poor heating of your oven. If you realize that your food is actually taking quite a long time to bake, chances are high that the igniter might be weak. Some models of gas ovens usually have a separated broil igniter which could be faulty if the oven is not broiling properly.
Start by finding the bake igniter in your gas oven which is in most cases located just near the burner. Actually, the igniter is usually very small and it is normally 2.5 by 10 cm. Some ovens have a round bake igniter and others are rectangular and you just need to check the kind of igniter that your oven has. For an igniter that is too weak, it will still be able to put off the light but the unit will not be working properly. The best remedy for this is to have the igniter replaced and you can buy the part and call your repair person to schedule a repair.
Check the thermostat or temperature sensor
A gas oven can also have a lot of problems with the thermostat or temperature sensor and this could be the reason why your unit is not heating properly. If the thermostat is not calibrated correctly or it is defective, you will need to have it repaired or replaced. There are some gas ovens that are usually fitted with an electric sensor. Trying heating your oven and then check the temperature and in case the heat generated is off by more than 30 degrees, you should consider replacing the sensor.
There are some gas ovens that have a mechanical thermostat especially for the older models. Such thermostats can be adjusted manually to restore the working of your gas oven to its best state. Start by removing the adjustment knob on the oven and you will be able to locate the calibration plate located on the back of the unit. Just loosen the screws on the plate and make the necessary adjustments. Once it is okay, tighten the thermostat back to its place.
Useful tips to keep in mind
When investigating your gas oven, it is essential that you proceed with great caution. If you are cautious enough, you will be able to know why your gas oven is not heating properly. Some components require to be replaced and if you can't do it by yourself, just buy the part and hire an expert to do the repair job for you. Remember that the replacement parts go by number and check your model well to ensure that you are buying the right replacement component for your oven.
Don't get alarmed if you happen to smell gas for a while after lighting your gas oven. You should however be very careful if you continue smelling gas when doing your investigation as you might be in danger. In such a case, make sure that you turn the gas off immediately to your oven. Remember that if you don't have the right skills to do the repair, you will need to hire an expert otherwise you might risk creating even bigger problems. Remember that any mistakes can lead to serious hazards like fire that may cause grave damages than you would probably imagine.
There are many companies available out there that offer gas oven repair and maintenance services and with just some little research, you should be able to find the right experts for the job. Ensure that the repair technician who is working on your gas oven is well reputable, knowledgeable and experienced. Regular maintenance and servicing of ovens is of paramount importance and can help ensure that your unit continues working properly for a long time. Some parts of gas ovens will definitely wear out with time and such might want to be replaced after some time. Unless you are a professional, you should let professionals handle the repair and maintenance of your oven just to be sure that everything is being done properly.
4.8 out of 5 stars 

Reviews from our customers

about D&V Appliance Repair

Reviewer: Joseph Walker –

Great Appliance repair service in Orange County, they repaired my GE monogram refrigerator in no time. Very professional techs, friendly and polite and customer service, I wish they could do plumbing too…