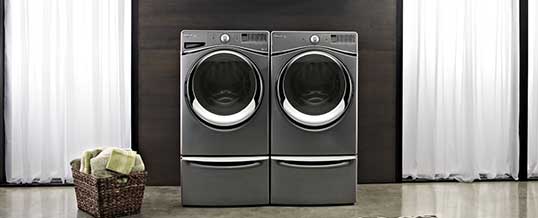 Washer Repair and Maintenance Tips
Not having a washer around can greatly cripple a household, considering how much laundry would start piling up the first couple of days alone. This is why it is always important not only to properly maintain your washer, but to make sure that any problems you encounter with it are solved right away.
Although we do all kinds of appliance repair, we also do our part in educating our customers on basic things to check so that you know exactly what's going on with your washer the next time a similar problem occurs.
Washer Repair Tips
Depending on what kind of washer you have, there are a few things that you could check on should you have any difficulties in using your washer. Here are a few washer repair tips for those with top load washers:
If your washer won't drain, there's a possibility that the drain hose is malfunctioning, or a few other parts of your machine would need to be repaired or replaced. However, you could also go ahead and check if anything is blocking the pump or the hoses, such as that piece of sock you've been looking for the past few days.
If your washer won't spin, then the belt may be broken or loose, or the drive coupling might be worn out. If you have a voltmeter at home and know a little bit of mechanical know-how, you can also check if the motor is receiving the amount of current that it needs.
If your washer takes a long time to fill, or would not even fill up with water at all, then some of the filter screens could be clogged. You can start the inspection by undoing some of the hoses and checking if there is sediment blocking the water from passing through the screens.
If your washer won't stop filling up, there is probably something wrong with your mix valve. To make sure, check if the machine still continues to fill even if it is unplugged.
If you have a front load washer, you could also use this washer repair tip:  If your washer is taking a long time to fill, or would not fill up at all, there might be something wrong with the hoses or there might be something loose. You can also try detaching some hoses to see if anything is keeping the water from flowing.
Of course, appliance repair is serious business and would always have to be done by a professional. Remember that not having enough background on the technical stuff could make matters worse, leaving you without a washer to use. Of course, we'd be more than happy to help out with any concerns about your washer, as well as other appliances that you might be having problems with at home.
Proper Washer Maintenance
There are a lot of ways for you to avoid the inconvenience of having a broken washer. Proper maintenance should always be a priority, so that you can try to avoid more costly appliance repair.
Check the hoses regularly. Especially if you use your washer more often than usual, a monthly check should do the trick. Any small cracks or blisters should be addressed right away, as these could lead to a serious leak, or could end up bursting and land you expensive costs not only on repairs on your machine, but on flood damage to your home as well. Should you try to find a replacement, go for the high-quality kind. They may be more expensive than other hoses, but you could end up saving more in the long run because there will be a less frequent need for repairs and replacements.
No matter how much laundry you have, fight the urge to overload your machine. The load limit on your washer is there for a reason, and going beyond that could overwork the machine. This could lead to more serious problems, and may shorten your machine's lifespan greatly.
Make sure your washer stands on a level surface. The slightest imbalance would make it vibrate and shake more than usual, and could cause some parts to loosen up. Keep it as close to the floor as possible, as the less height it has, the less chances of it vibrating too much as well.
Clean your washer regularly using only highly-recommended cleaning products. It's normal for residue to build up within the machine, and this may cause some tubes and hoses to clog up. Cleaning your washer regularly will also help you avoid any undesirable odor, and could help you prevent molds from growing.
Clean the fabric softener dispenser regularly as well. Any fabric softener accumulating and drying up in the dispenser could turn into gum and could be harder to get rid of over time.
Another way for you to avoid molds from growing is to keep the door on your washer open until everything dries up. This way, moisture will not accumulate in corners of your machine, and you can prevent unwanted odor as well.
Always prioritize the recommendations on your washer's manual over the instructions on your detergent box. Follow the proper amount given by your washer's manufacturer to avoid any damage to your machine.
These steps may seem simple enough, but they could add value and quality to the way your washer performs. Again, these steps are there to guide you and help you out, but the more serious problems should be left to experts. The moment you notice anything amiss, contact us right away and we'll fix the problem in no time. Using only genuine factory parts, we guarantee quality service no matter what kind and brand your appliances may be. We even do repairs at night and during the weekend, so that you won't have to wait until the next day or the following week before using your appliances again.
With 100% satisfaction guaranteed, D&V Appliance Repair could take away your appliance worries faster than you know it.
Call us today 714-204-3140 or schedule an appointment on-line. We are open from 8:00 AM to 9:00 PM every Monday through Saturday. We are also on call after our normal scheduled hours and on weekends for emergency repair services.