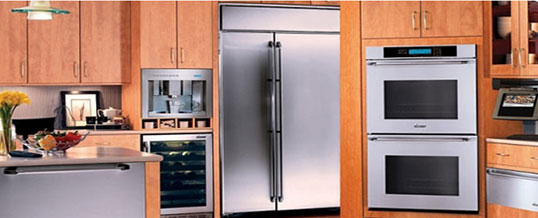 Refrigerator Repair in Orange County, CA
Can you imagine living without a fridge? You probably won't be able to, considering that we're known it to be one of the most important kitchen appliances we've always depended on our whole lives. Not having one means wasting food as they get bad at a short amount of time, and not being able to stock up for the hard seasons simply because there is no way for you to preserve food quality.
So what happens when your trusty refrigerator breaks down? Some panic, some wring their hair in frustration. Some even attempt to repair the thing on their own, which would most likely result in bigger costs and even bigger problems. The most sensible thing to avoid stress and money loss is to call in for refrigerator repair in Orange County, CA. This is what D&V Appliance Repair is for.
First of all, if your refrigerator is not running at all, make sure that this is not a power problem caused by damaged outlet, damaged power cord or even blackout. If you see that the electrical connection is not an issue, check your temperature settings. Also you can check if there is enough space for airflow between the walls and the fridge and make sure that you didn't leave the door of the refrigerator open for long period of time. Even if the door was closed properly, there may be a problem with door seals, which can let the cold out.
Why You Should Avoid Repairing Your Own Fridge
There is a huge emphasis on DIY these days, which is completely understandable, considering the costs that come with repair work. However, when it comes to appliances, especially for something as important and as frequently used as a refrigerator, self-repair could create even bigger problems like these:
A refrigerator has so many components and parts, and when any of them breaks down or malfunctions, they could all show the same symptoms. The problem is figuring out what the problem really is. Misdiagnose the problem and apply the wrong solution, and you could have a lot of wasted time, wasted resources, and worse, a refrigerator that is still malfunctioning. As a trusted name in refrigerator repair in Orange County, CA, we at D&V know exactly what's wrong with your fridge because of all our experiences put together.
Availability of Parts. Although refrigerator parts can be found in different stores near you, there could be a few special parts that you need that are harder to find. As you jump from one store to another in an attempt to find everything you need, and as you widen your search and do more research, a lot of time is wasted and you go even longer without a decent fridge to use. This is why it is usually better to trust D&V for refrigerator repair in Orange County, CA. We always have parts in stock to make sure that we're ready even for the rarest refrigerator problems.
Bigger Problems. Especially if you're not exactly an expert repairman, there is a chance that you'll cross a few wires or replace old parts the wrong way. We all know that things can go terribly wrong when it comes to mishandled electronics, and your refrigerator is no different. The moment you miscalculate anything, a simple refrigerator problem can become worse and turn into a bigger problem that would be harder to resolve.
Bigger Costs. Of course, when you make any appliance problem worse, this does not only mean that you wasted time trying to repair it, you also waste materials in the process. There is also a possibility that you might end up needing even more parts, causing your expenses to balloon even further. That money you were trying to save by skipping on calling an appliance expert could have been a better investment.
Electrical Accidents. As with any other appliance, when there are wires and electricity involved, there is always a huge chance of electrocution or electrical fires. Huge accidents occur when appliances are mishandled. The possibility of these accidents happening becomes even bigger when they are repaired the wrong way. Instead of risking it just because you think you can save a few bucks out of it, might as well invest in quality work with a trusted name in refrigerator repair in Orange County, CA.
We know it's tempting, especially when the internet makes everything sound so easy. But when you think about the huge risks that you're opening yourself up to, then you'll realize that the investment is truly worth it.
Why Choose D&V for Refrigerator Repair in Orange County, CA
So when it comes to your busted refrigerator, why trust D&V?
Wide Range of Services. It's not just your refrigerator that we can work on. While we're working on your fridge, might as well bring out all the other appliances you're having problems with and have us fix all of them in one go. We are knowledgeable in every kind of appliance imaginable, and are able to work on any brand.
Rush and Emergency Services. We understand how hard it could be to have one appliance not working at its optimum, especially if that piece of appliance is a refrigerator. Because of this, we provide same day and emergency services at no extra charge.
Years of Experience. All our technicians have years of experience to back them up. With this amount of experience comes the ability to diagnose problems right away and knowing what the perfect solutions are for each type of appliance issue. Our techs are also certified and licensed, and carry liability insurance. They also answer every question you might have about your appliances.
Long-Term Fixes. We're not like other repair shops where you have one problem now, and the same thing happens just a few months after the issue is fixed the first-time. We always go for long-term fixes instead of band aid solutions.
Genuine Parts. We don't believe that using second rate parts is a cheaper solution. We believe that genuine parts are still the better investment simply because they work better and longer. This is why you will never find cheap parts in our inventory; we use nothing but originals.
Extended Warranty for Parts and Labor. We trust our own service, which is why we offer warranty in every single thing that we do. Our parts have an extended warranty of up to 5 years, and we also offer a 30-day labor warranty.
So for refrigerator repair in Orange County, CA, there's no other name to trust other than D&V. Call us now at 714-450-3994 and you can start scheduling a time slot that would be most convenient for you. We are open from 8:00 AM to 9:00 PM every Monday through Saturday. We are also on call after our normal scheduled hours and on weekends for emergency repair services.
While waiting for a refrigerator repairman, please don't do anything with the unit, don't unplug it and leave it as it was you first noticed the problem. It will help our technician to better diagnose the problem and find a solution.
Most common refrigerator  problems we repair:
cleaning the condenser coils
fixing defrost heater problems
compressor repair/compressor replacement
heating pump replacement
charging Freon
Fuse and switches replacements
Condenser replacement
Stop Leaking
We repair all most common brands for refrigerators, including, but not limited to: Admiral, Amana, Asko, Bosch, Brown, Dacor, Electrolux, Fisher & Paykel, Frigidaire, Gaggenau, GE, Gibson, Jenn –Air, Kenmore, Kirkland, KitchenAid, LG, MagicChef, Maytag, Miele, GE-Monogramm, Neptune, OKeefe And Meritt, Samsung, Sanyo, Sub-Zero, Thermador, Traulsen, U-line, Viking, Vinotemp, Whirlpool, Wolf.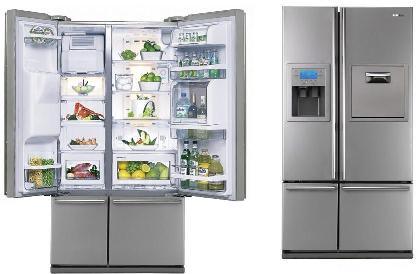 D&V Appliance Repair




4.9


out of

5



based on
98
user reviews